Fiser Development
Article from Saline County Lifestyles, March 2016
(copied with permission)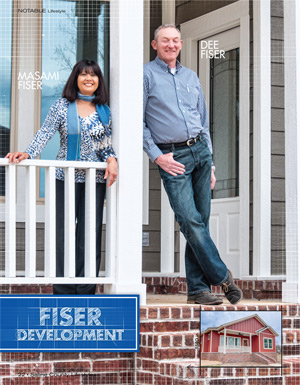 Home builders Dee and Masami Fiser of Fiser Development LLC understand the growing need for a slower lifestyle that fosters community. As a result, they brought architect Ross Chapin's concept to Central Arkansas through Creekside Cottages, Saline County's first pocket neighborhood.
From a development standpoint, pocket neighborhoods are defined as clustered groups of neighboring houses situated around a shared open space such as a garden courtyard, or a series of joined backyards. The shared outdoor space is a key element of a pocket neighborhood, and in the case of beautiful Creekside Cottages, the shared space is a sprawling green pasture, a wooded area with native trees and a clear flowing creek.
Dee and Masami's love for Saline County, and for home, influenced their decision to invest in this innovative and intimate development concept. "Whenever we travel we find ourselves looking at different architecture, communities, and lifestyles. We fell in love with the concept of pocket neighborhoods and front porch living where people slowed down enough to talk to their neighbor. We moved to Salem 18 years ago and fell in love with the lay of the land and this area. We've been building in different places but felt that we should invest in where we live, in our community."
After 28 years of owning and operating Fiser Truck &Tractor, Dee and Masami "retired" and began pursuing their desire to help families make owning the home of their dreams a reality. Quality control and time management skills learned in the equipment industry as well as being detail oriented, lends itself well to successful and thoughtful building to create a home that clients cherish for a lifetime.
Just as Dee and Masami are passionate about home and community, they are as equally passionate about energy efficient homes with the latest in "green" technology. "We invest in energy efficient homes because it's healthy and economical. Our goal is to design homes that have green renewable products and the latest technology in energy efficiency so the bottom line cost to the homeowners is reduced. We want to reduce utility usage 30-40%, which helps the environment. It's living large on a small footprint."
Fiser Development focuses on building energy efficient homes by following changes in the market; they attend classes and expos and are continuously researching new and green building methods and products. Fiser homes include: foam insulation which strengthens walls 3 to 4 times greater than standard and is super insulated, Zip wall system, tank-less water heaters, E-glass windows (gas charged), LP SmartSide, which has a 50 years warranty and/or brick exterior, and high efficiency heat and cooling systems.
Dee shares, "It's our belief that the internal workings of a house from the foundation up, as well as the visible aesthetics of a home, will provide families energy efficiency, comfort and balance in a home that reflects the lifestyle of the owner."
Through extensive industry research and travel, Dee and Masami have learned that new trends in home building are going more contemporary with reduced floor plans that eliminate wasted square footage. "There's a real push to renewable green products used in contemporary style mixed with cottage or craftsman style, as well as neighborhoods with variance in home size – a single person or couple with a two bedroom home and a family with a four bedroom home in the same neighborhood."
In addition to Creekside Cottages, Fiser Development's next planned community is about to open. Olde Salem Township is designed with two internal nature parks, a clubhouse and a pool to enhance lifestyle and community, and will incorporate the energy efficient and green standards found in the homes in Creekside Cottages.
True neighborhood living, environmentally friendly construction and attention to detail that makes a house a home – these are the guiding principles Dee and Masami have that set Fiser Development homes apart from the others. "We provide personal care and attention and oversee every build from beginning to end to ensure that it's done right. The home is one of the single most important decisions in a person's lifetime so we are committed to building respectfully with the client's well-being in mind."
For more information about Fiser Development LLC, pocket neighborhoods or their energy efficient features, visit www.fiser.com.